PiratesAhoy! - Pirate Games | Reviews | News | Forum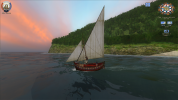 First of all,Thank you to MK for bringing me the most enjoyable time I've had in COAS yet! After my hiatus from it I hope to return to continue my story

. my only Problem with the mod was having to sink all those beautiful ships that just barely didn't fit in the budget or minimum qualifications of my fleet standards.

Secondly, This was written over the course of several days on the screenshot thread. and after Pieter suggested it I decided to give it its own thread here.

This is an example of the good times you can have in Modern Knight's Historical Eras Module 2 with a little imagination and role-play! I would like to encourage everyone else to also share your adventures on the forum as well whether its GOF, ERAS, or POTC that you play!( Or ny other ones i have no clue exist

)

Episode 1
Lets see... i started out with something I've always wanted! a little sailboat lol
. which was even smaller then the boat I used to get on shore...

Then as I...

I don't know how many times over the years I've read some small article or commentary that large pirate ships and great pirate treasures are the stuff of myth and legends – that they didn't really exist. According to these wise and astute scholars "pirate ships were small fast craft" and treasure was "most often stores and common cargo".

In my own little article here I would like to take a look at what history has to say about these revisionist ideas about pirates, pirate ships and treasure.

Were Pirate ships small? As with so many other things, there are never absolute answers. Over-generalization most often leads to erroneous conclusions. Were pirate ships usually small? Again "usually" is a word that forces one to generalize. A true historical examination of the these questions begs other questions – namely "when" and "where".

Late in the Era of Piracy (its decline) we know that the havens of Madagascar had been destroyed. Patrols from Europe's naval powers haunted the Gold...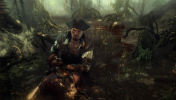 This pirate Role Playing Game gets an official release date at last.
For more details, see:
http://www.pcgamer.com/2013/11/23/pirate-based-yarrrpg-ravens-cry-gets-may-7th-release-date/
ATTENTION: New version of mod RELEASED 11/29/13. This version is a little smaller at 5.2gb and includes Pieter's installer. Link follows.
After two years of development mostly by myself the GOF Era's Mod2 is finally finished and the mod is available for download here:
http://www.piratesahoy.net/threads/gof-historical-eras-module-2.20344/
More links will be forthcoming and Pieter has made an auto installer that's bundled with the mod. So it can be manually installed if that's what you prefer or with the push of a button with Pieter's installer.
This mod embodies the spirit of the Golden Age from 1648-1725 with...
- 67 different player characters to choose from that are 95 percent real historical figures of that era.
- 81 blades and over 40 different pistol combinations to arm yourself with
- Over 50 new items including many that enhance your abilities like the manuals.
- 16 new ships and 70 percent of the old models reskinned for the Golden Age Era.
New weather,...
Here's the ship: the
Seeadler
and here's the man:
Felix von Luckner
---------- + ----------
The Last Corsair
Into the drama of WWI, a man, and his ship, ending the Corsairs Era with a marvelous long adventure: the
Seeadler
, a Norwegian captured vessel under the command of the German KaptainLeutnant
Felix von Luckner
, roam the oceans and take down about 15 tons of enemy vessels in 225 days. The last days of the Great Corsairs Era, since Drake and Hawkins times it's came to the end, but the Seeadler adventures declare his grand finale.
They roamed the high seas, with this magnificent ship, armed with two powerful 105 guns, a Diesel engine, and a series of uniforms held into the main mast, in search of enemy merchantmens. Felix von Luckner's life and adventures was also brilliants as his corsair times. I want honor mens like...
Emilio Salgari, Italian writer. He never moved from his city, never saw a scrap of sea in his life,but has created the best pirates books ever seen.
Thanks to him now the fictional pirates are more rich than before, he's the creator of Sandokan, the Malesian pirate king of Mompracem and his personal vengeance against James Brooke, the English villain of the saga, The Black Corsair, a marvelous saga depicting this brave and romantic pirate, once a time a Count, now a pirate warring against the evil governor van Guld, who has betrayed him and hanged his brothers.

Well, this man was very unlucky in his real life, but their books are for many people the symbol of romantic adventure at sea: with Sandokan he reach to mix from the classic "eyepatch and hook" with the classical romantic pirate who every girl dream to see.
This writing is a tribute to this marvelous writer, and also here's in Italy Sandokan saga was the lucky strike for the indian actor Kabir Bedi, who did his fortune...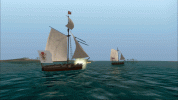 A multiplayer RPG set in the Caribbean during the age of sail. Explore, Pirate, Trade or Fight your way to renown and riches!
Have you ever wanted to play a sailing game where real world locations are accurately modelled and combat is tactical and visceral? Where character development is expansive and directly tied to success or failure? Do you
not
want a game with giant squid, zombie pirates and superhuman characters running rampant? If that's the case then Spirit of Sail is for you.
For more much more details as well as a short and very early video of Pre-Alpha footage, have a look at
the official Kickstarter page
.
And be sure to drop by Flintlock Studio's own website as well:
http://www.spiritofsail.net/
​