PiratesAhoy! - Pirate Games | Reviews | News | Forum

​
Welcome to another edition of our Hearts of Oak progress articles!
Each week*, we will bring you a summary of the latest development news, including work-in-progress screenshots and in-game footage, along with a more in-depth look at featured content.
This week we have a wide range of impressive models, engine screenshots and music to share...
3D Models
There are several sub-categories of 3D assets to cover here, so below we'll list various types of assets, what they're called and who made them.
Architecture
- WIP Chapel; @Wedori
A high-detail period chapel, featuring full interior. The interior itself isn't complete, but the building is otherwise perfect for many in-game towns....
I ran across this Youtube video featured over on
Kotaku
and thought I would share it. It is a great review of the history of pirate game genera over the past 35 years and covers most of the titles I remember and several that I had never heard of. Seriously lacking however is any video of POTC, though it is mentioned, and absolutely no mention of the modding we have been doing to the game over the past decade. That video is narrated by
XboxAhoy's
Stuart Brown, so no real surprise there. Also missing is any reference to Age of Pirates : Caribbean Tales, though they do feature CoAS, go figure!
There are some other omissions, such as Tortuga Pirates of the New World and Pirate Hunter, although those are probably best forgotten. Also missing is any mention of Pirates Odyssey, East India Company, Commander :...

Application Systems announces development of Nelly Cootalot: The Fowl Fleet for Mac/PC/Linux, an adventure game created by Alasdair Beckett-King. The company has joined forces with the award-winning comedian and filmmaker to bring this swashbuckling adventure to life in stunning High-Definition. The goal is to launch the product in the 4th quarter of 2014.

Steam Greenlight
Ahoy! The team's Steam Greenlight campaign launched today and needs support from all the adventure gamers on the high seas:
Read on for more, including endorsements and quotes from the likes of Tim Schafer and Ragnar Tornquist.

About Nelly Cootalot: The Fowl Fleet

Join Nelly Cootalot in this indie adventure game, and rescue birds hypnotised by the villainous Baron Widebeard. Explore a charming,...

Comprehensive Gold Edition includes acclaimed strategy title and all released additional content

Bracknell, UK, 18th July 2014 – Kalypso Media is pleased to announce that the award-winning trading strategy game Rise of Venice is now available to purchase via digital distribution as a comprehensive Gold Edition that includes all previously released additional content. Establish yourself as one of the most powerful traders of Renaissance Venice in the main game and then expand your empire as far as Gibraltar in the major add-on 'Beyond The Sea'. Plus, the Gold Edition also includes both the 'Steamship' and 'Sea Monsters' DLC. A retail boxed version will be available to purchase from 22nd August 2014.

Rise of Venice - Gold Edition challenges players to rise up through the ranks of Venetian society by crafting their own trading empire. Remove political opponents, apply merchant savvy and trade your way to becoming one of the most influential figures of the...

Swashbuckling combat strategy landing on the App Store this year

Leading independent mobile games publisher, Chillingo, today announced it is partnering with Finnish mobile games developer Nitro Games to publish its upcoming combat strategy game, Gang of Pirates, launching on the App Store later this year.

Gang of Pirates is the most epic, social game of combat and strategy. Gang up and command swashbuckling scoundrels and scallywags in 3D battles where you have direct control over your squads. Build your customizable stronghold, train your pirates and battle with other land lubbing players from all across the globe!



"Chillingo is very excited to be collaborating with Nitro Games on Gang of Pirates," states Ed Rumley, General Manager of Chillingo. "Our team has been working closely with Nitro Games to help shape Gang of Pirates into the definitive strategic multiplayer experience on mobile."

"Nitro Games is pouring its years of...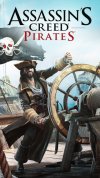 Thanks to @
TwoWinds
for the heads up, Ubisoft's Assassin's Creed Pirates has been named Apple's app of the week! That means that it is available for free from the
Apple Store!
Free is a relative term for most game companies though, and from what I have read, there are a lot of in game purchases that will cost you some real money in the end. You will of course need an iPhone, and Ubisoft has also released a new update for the game as well.

It's been a few slow news days the past week or so, but I have posted a couple of articles I found to our Twitter feed. One about the
Swedish warship Mars
, the other about
Harrison's Longitude clocks.
I sometimes post small things I find there instead of creating a full article for them, so if your on Twitter, you should be
following our feed
to get all the booty!
I am a couple of days late on this one, but I just ran across this Steam sale and thought I would pass it along for those of you who might be interested. Now through July 14'th, The Guild 2 Pirates of The European Seas is on sale for $2.49, a whopping 75% off! I am not very familiar with the title, but I do remember seeing it released a couple of years ago. You can find more...