PiratesAhoy! - Pirate Games | Reviews | News | Forum

A BRAND NEW modpack for Age of Pirates: Caribbean Tales is nearing its release date. Slightly based on the old Supermod, the "Age of Pirates: Caribbean Tales - Historical Immersion Supermod" by Modder01 features much more attention to detail and historical immersion!
See
this thread
for more details.

Sailors, swashbucklers and scallywags alike... join us as we celebrate all that we have achieved in 2013!
For everyone at PiratesAhoy!, it's been a year to remember. As we began the year by
celebrating our tenth anniversary
, we knew that great things would come in the following months. And, true to form, we have outdone our expectations in a number of ways.
So, let's take a moment to recap on how each of the community's key projects have advanced over the course of 2013, and we'll provide the latest updates along the way.
Hearts of Oak: Conquest of the Seas...

It makes me proud to announce that, thanks to everyone who has voted so far, PotC: New Horizons has officially made it into ModDB's list of Top 100 mods of 2013!
---------------------------------------------------------------------------------------
Thank You!
For recognising New Horizons as one of the top 100 mods of 2013.
Long live the Build Mod!

---------------------------------------------------------------------------------------

​
This is the first time we have ever successfully reached the top 100 in ModDB's Mod of the Year voting, and we couldn't be happier to have achieved this. Such recognition is a fitting tribute to the many, many modders who have contributed countless hours to...

It goes without saying that 2013 has been a huge year for PiratesAhoy!, and our flagship mod project, PotC: New Horizons, is a testament to our community's incredible level of dedication and enthusiasm. The culmination of ten years' worth of work has resulted in one of the biggest and most impressive mods to ever grace such a relatively unknown game.
The popularity of New Horizons has been rising steadily with each subsequent release, and with the
brand new Build 14 Beta 3.1
* having just officially rolled out, the mod has soared even...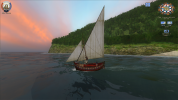 First of all,Thank you to MK for bringing me the most enjoyable time I've had in COAS yet! After my hiatus from it I hope to return to continue my story

. my only Problem with the mod was having to sink all those beautiful ships that just barely didn't fit in the budget or minimum qualifications of my fleet standards.

Secondly, This was written over the course of several days on the screenshot thread. and after Pieter suggested it I decided to give it its own thread here.

This is an example of the good times you can have in Modern Knight's Historical Eras Module 2 with a little imagination and role-play! I would like to encourage everyone else to also share your adventures on the forum as well whether its GOF, ERAS, or POTC that you play!( Or ny other ones i have no clue exist

)

Episode 1
Lets see... i started out with something I've always wanted! a little sailboat lol
. which was even smaller then the boat I used to get on shore...

Then as I...

I don't know how many times over the years I've read some small article or commentary that large pirate ships and great pirate treasures are the stuff of myth and legends – that they didn't really exist. According to these wise and astute scholars "pirate ships were small fast craft" and treasure was "most often stores and common cargo".

In my own little article here I would like to take a look at what history has to say about these revisionist ideas about pirates, pirate ships and treasure.

Were Pirate ships small? As with so many other things, there are never absolute answers. Over-generalization most often leads to erroneous conclusions. Were pirate ships usually small? Again "usually" is a word that forces one to generalize. A true historical examination of the these questions begs other questions – namely "when" and "where".

Late in the Era of Piracy (its decline) we know that the havens of Madagascar had been destroyed. Patrols from Europe's naval powers haunted the Gold...